SOCIAL JUSTICE AT THE 7-ELEVEN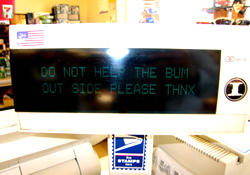 or "THANK U 4 SHOPPING AT 7-ELEVEN & DON'T SHARE YOUR DING DONGS W/ THE HOMELESS"
At the 7-Eleven near USD in San Diego, the cash register's default message states "
DO NOT HELP THE BUM OUT SIDE PLEASE THNX
," as you can see from my poor photo above. (By the way, there was no "bum" outside the store.)
This anti-homeless message is, of course, part of 7-Eleven's repertoire of innovative tools to eliminate the "unwanted" from loitering outside their convenience stores. According to a
recent report from the UK
, 7-Eleven's practice of blasting opera and classical music in its parking lots has resulted in fewer acts of vandalism, mugging, and drug deals.
The Slurpee chain's efforts to eliminate drug dealing is ironic, however, since 7-Eleven is the largest tobacco retailer in the United States and arguably the largest distributor of cigarettes to children.
Only today did 7-Eleven finally
settle a tobacco-related suit
brought by 40 different states, reluctantly agreeing to implement steps to curb sales to minors. So kids, if you want some smokes now, you'll have to get that fake ID laminated and correct the spelling errors.
Finally, on a mostly unrelated note, it's not often that I read much these days about slavery reparations for black Americans.
Thus, I was rather surprised to see the issue mentioned on the cover of a magazine in the aforementioned 7-Eleven, which normally only carries publications like
Teen People
,
Guns & Ammo
, and
Teen Guns & Ammo
.
But apparently, 7-Eleven is now carrying -- indeed, featuring --
Black Men
magazine, which highlighted its article on reparations on the lower left corner of the cover of its latest issue.
Of course, I don't think the pro-reparations movement advanced much with this cover photo: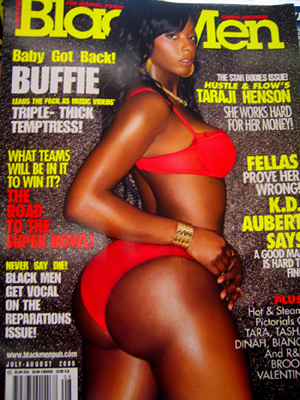 I mean, does anybody need reparations once they have glossy pictures of a "triple-thick temptress" in their hands?
--Junichi