ROCK LIKE AN EGYPTIAN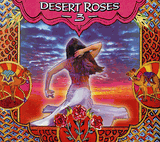 Who Stealing Who?

If you listen to hip hop or R&B, you've heard Arab pop music. In the last few years, producers from Dr. Dre to Wyclef to the Neptunes have increasingly borrowed or sampled from Arab songs.
I'm far from an expert in the genre, but I can recognize some of the common elements or instruments in Arab music: the tabla (bongo-like percussive instrument), the lutes, and the string parts that incorporate their scale structure, which includes more tones per octave than the "Western" 12-tone scale.
As is the case with hip hop's sampling of Bhangra/South Asian music, I doubt many Arab musicians are getting royalty checks. With so much focus on the Arab world -- and by focus, I mean bombs -- I predict the risk of cultural exotification and sampling will only rise.
Thus, I find it incredibly satisfying to hear and share these songs by Arab artists who are covering the two most famous "western" pop songs that reference Arab culture. Appropriation, touché.
The first song I've uploaded is Egyptian pop superstar
Hakim
's cover of The Bangles' "
Walk Like an Egyptian
." Hakim, known as the "Lion of Egypt," is credited with popularizing
jeel
(Egyptian street music) and revolutionizing the genre of
sha'bi
(indigenous Egyptian music). Here, with vocal help by "Cleopatra," Hakim stays loyal to the original lyrics, but adds his response in Arabic, which puts an entirely different spin on the 80s classic. Apparently, even in Egypt, the Japanese with their yen, the Chinese, and the cops in the donut shop say, "
Way-oh-way-oh-way-ohhhh
."
The second song is Algerian-born
Rachid Taha
's "
Rock the Kasbah
," which, of course, is a cover of the Clash classic, but with different spelling. Apparently, part of the Clash's inspiration for the original was listening to Carte de Sejour, which is Rachid Taha's former Arabic-style electric/punk/urban band. Sadly, Taha and Joe Strummer were planning a duet, two decades after
Combat Rock
came out, before Strummer's untimely death in 2002. So this cover -- with Brian Eno on synthesizers -- is as close as we'll get to that duet. The rollicking percussion in this cover brings the song to a whole new level, especially with an anti-war lyrical twist. The verses are translated into Arabic and French.
Finally, check out "
Lela
" which is a silly Narada Michael Walden-produced duet between
Hakim
and -- you'll never guess --
James Brown
. "Lela" incorporates horn riffs from JB's "I Feel Good" and steals from other familiar JB rhythm patterns. The best part of the song is the end, where you get to hear the Godfather of Soul scream
"As Salaam Alaikum!"
not once, but twice.
(Downloads are only available for a very limited time. I strongly encourage you to explore more Arab artists and buy more of Hakim and Rachid Tala's records. I also appreciate any recommendations.)
--Junichi