QUESTIONABLE MARKETING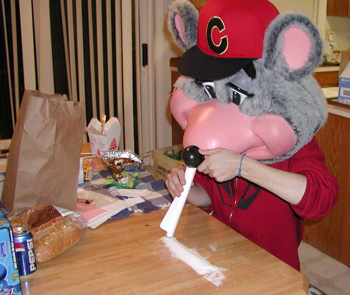 Chuck E. Cheese's marketing plan reaches new highs
Here's a roundup of the latest marketing news:
Speaking of Study Butte ... while you know that Target converted a song about big butts into an ass-less jingle for backpacks, the latest Madison Avenue trend is apparently to go the other way: flaunt the big butt. Perhaps you've seen that Nike ad where a white woman jokes that her plentiful backside gets fan mail. (Hey Funyuns, if you're looking for the perfect plus-size ass model, call me.)

Speaking of soda marketing, what the hell is Coke Zero? I read this article about how Coke Zero has flopped, and I still don't understand the difference between that product, Diet Coke, and Diet Coke with Splenda. Didn't Coca-Cola learn anything from their C2 disaster? Or from Pepsi One? Or from Tab Negative Two?
Finally, how does the Catholic Church convince more young males to join the priesthood, when the profession forbids sex, requires getting up early on Sunday, and triggers associations with sexually abusive pedophiles? Pop culture references, of course. One priest in the Archdiocese of Indianapolis created the Matrix poster below.
Doesn't it violate one of the Ten Commandments for someone (other than God) to suggest that he is "the one"? Woah.
--Junichi