MTV VIDEO MUSIC AWARDS WRAPUP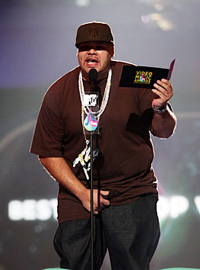 Fat Joe can't lean back because of testicular swelling
Last night's MTV Video Music Awards, once the model for entertaining and innovative awards shows, had the "edge" and "hip factor" of the 2005 Teen Choice Awards.
(I'm not necessarily admitting that I watched the Teen Choice Awards, although I'm still shocked that Chad Michael Murray beat Jesse McCartney for "
Choice Male Hottie
.")
This year's VMAs were hosted by Diddy, who recently dropped the P from 'P. Diddy,' because,
as he told Katie Couric on the Today Show
,
"I felt like the 'P' was getting between me and my fans and now we're closer."
The P was getting between him and his fans? I thought that was R. Kelly's problem.
Nothing, however, was getting between Diddy and his status as the worst choice to host a show. Pat Sajak and Ted Koppel's love child would've had more charm.
Of course, one benefit of Diddy hosting was that Notorious B.I.G. could return from the dead and perform on stage, virtually speaking. With the precision of Fantasia's Mickey Mouse on methamphetamines, Diddy "conducted" an orchestra that provided new musical backing to acapella tracks of Biggie's "Juicy" and "Warning." Fresh. MTV gets the gas face, however, for editing out the line about blowing up like the World Trade.
Here are other highlights and lowlights:
Ludacris performed "Pimpin All Over The World" with a bevy of international dancers that perfectly captured the sentiment of "It's A Small World" relocated at the Moonlite Bunny Ranch.



Accused child pornographer R. Kelly lip synched his latest chapter of "Trapped in the Closet," which was one of the most surreal performances ever televised. I have to give the man props, however, for role-playing a gay man's torn loyalties between his wife and his male lover. He would be great on Passions.



Before introducing R. Kelly, Eric Roberts (how did this tool get to be in so many videos?) plugged his son's band. Painful. By now, his son probably has had the stool beat out of him a hundred times over.



Audience members tapped their tambourines along with 50 Cent's performance to create that authentic hippie "I'd like to teach the world to sing" gangsta vibe. Any positivity, however, was nullified when 50 started made threats against Fat Joe. (These days, I feel like an incompetent inventory worker at a Kobe meat factory: I can't keep track of all the beef.)



Speaking of beef, the big story of the night took place hours before the VMAs. Death Row's 'Suge' Knight attended a Kanye West-hosted party, in part, to make peace with the hip hop community. Amazing. But then, Suge was shot in the leg and required hospitalization. So much for a truce. Somebody gonna die now!



I'm happy to admit that I appreciate Coldplay and I think X&Y is a consistently enjoyable album. But their live TV performances cure insomnia and inspire visions of the scene in

Seven

with Gwyneth's head in a box. Coldplay: needs to be banned from live TV.



I think it was too early for the "surprise" VMA performance by MC Hammer. I still have a sour taste in my mouth from when Hammer and his bankruptcy-inducing posse went on stage at the VMAs and drank Diet Pepsis in unison. But I'll admit that 14 years later, the man can still do a wicked typewriter.


He had to pray just to make it to the VMAs.



Kelly Clarkson. Cute. Charming. A little pitchy.



The best performance of the night belonged to the ubiquitous Kanye West and Jamie Foxx. Among other things, their duet was historic since, according to my research, Mr. Foxx is now the first Academy Award winner for Best Actor to ever sing about a "bee-yitch" and a "gold digger" at an awards show.




Correction

: Oscar winner Ben Kingsley actually did a scat about a "bee-yitch" and a "gold digger" at the 4th Annual Blockbuster Entertainment Awards. I apologize for the error.


--Junichi