HIP-HOP IN ADS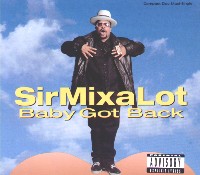 royalty check coming his way
The placement of rap music in television advertising is nothing new but much of the time, it's been only the most hackneyed and superficial uses (think back to that McDonald's ad from a few years back where a DJ was spinning burgers instead of records. Ouch). Recently, a few campaigns - from department stores of all places - suggest that more hip-hop savvy ad teams are in place (had to happen sooner or later).
For example, a Target's "Champion" ad uses Eric B. and Rakim's 1993 Don't Sweat the Technique" to hawk a sporting wear line. Stranger still is J.C. Penney's recent spots on back-to-school wear which shows day-glo-decked kids breakdancing to Black Sheep's 1992 hit, "The Choice Is Yours (Revisited)". It's great to hear the song in action, it's just weird to see how this song went from being an underground anthem to shilling for...J.C. Penny. What, Macy's ain't good enough to roll with the Black Sheep?
Now comes word that Sir Mix-A-Lot's 1992 smash, "Baby Got Back," is being used to sell backpacks for Target.
This is the "G-Rated" version - we should not be expecting to see 13 year olds shaking their ass as they did in Mix-A-Lot's original video. To explain this curious logic of using such a racy song to sell kids' stuff, this AP wire story relates, "ad executives tell the New York Post the ad is a great idea because it targets parents who remember the song and are likely to have kids in school these days."
And of course, those parents want to associate a song celebrating the female derriere with their barely pubescent children...hmmm, maybe they might want to rethink that.
--O.W.