WILL THE DIRTIEST JOKE EVER TOLD BE BANNED IN THE USA?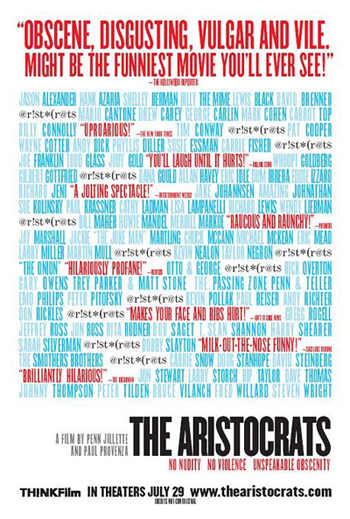 The next great movie about free speech?
As somebody who thinks comedy should be studied more seriously, I can't wait to see the buzzed-about documentary,
The Aristocrats
, which features 102 famous comedians -- including George Carlin, Sarah Silverman, Jon Stewart,
Phyllis Diller, Eric Idle, Whoopi Goldberg, Steven Wright, Andy Richter, and The Onion (!), to name a few -- telling the same 'dirtiest joke ever told.'

In the movie, this oft-repeated joke about an obscene family act, handed down from the comics in the vaudeville era, gets performed differently by each comedian.

The problem is that this brilliantly-conceived documentary may not be coming soon to a theater near you. The AMC theater chain made a "business decision" not to show the doc on any of its thousands of screens, denying that it's engaged in corporate censorship. AMC's ban is undoubtedly a cowardly move

and

a decision as poor as its selection of the tapeworm-looking filmstrip as its ubiquitous mascot.
C'mon, Mr. Tapeworm, let America watch!

Of course, the content will probably disgust or outrage many. Once you see the South Park creators' (Trey Parker & Matt Stone) disquieting contribution to the film, you might easily conclude it's as filthy and offensive as a film can get without showing blood or buggery.

You can view the main trailer for the film here. Click here for the film's website.
--Junichi