MORE RANDOM RAVES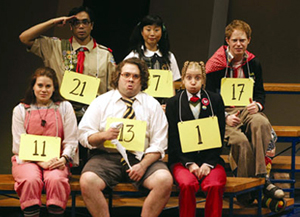 Will the Asian spellers please choose a number divisible by seven?
MUSIC VIDEOS
Since the election is over, Eminem's video for "Mosh" has been updated with a new ending. John Edwards and Dennis Kucinich have never looked cuter. Peep the last 60 seconds.
With a repertoire that includes a song about intercourse near butter rolls and tossed salads, R. Kelly is the very definition of self-parody. But "Trapped in the Closet (Chapters 1-5)" is genius dot com. Has there ever in the history of music been an epic five-chapter song-video-soap opera? Especially one about a gay minister and speeding tickets, with no hook, written by an accused child pornographer who married Aaliyah when she was only 15? Yes, the lyrics are often cringeworthy: "I closed my mouth and swallowed spit / And I'm thinking to myself, 'This is some deep shit!" But the narrative is more compelling than a four-Hummer freeway collision; I couldn't take my eyes away.
TV
Check out Morgan Spurlock's 30 Days on the FX channel. The episode where a Christian guy stays in a Muslim family's house was so necessary and informative that I nominate it to be mandatory viewing in our country. (Two complaints, however: they depict the prophet Muhammad, which is a no-no in Islam, and they don't do a great job differentiating Muslim from Arab from "Middle Eastern.")
I'm officially sold on HBO's Entourage. While some of last season's episodes reeked of a guys-on-the-hunt-for-Pootie-Tang frat-cam show, the characters are more fully developed this season and the writing has considerably sharpened. I loved that line from last Sunday's episode where Drama defends his choice to do a Valtrex commercial by bragging that the make-up girl went down on him before she put the cold sores on. C'mon, that's funny.
I'm not afraid to admit that I watched VH1's Strip Search, a reality show about 15 guys who compete for the chance to be in a Vegas male revue troupe that is the American version of 'The Thunder from Down Under.' It's refreshing to watch men go through body image issues, for a change. I nominate robotic pscyhopath Johnny Marco for the reality tv character hall of fame.
BOOKS
STAGE
Upon initial reflection, The 25th Annual Putnam County Spelling Bee on Broadway just felt like a really funny two-hour skit. But in retrospect, the writing was exceptionally clever and the ensemble cast's comic timing was impeccable. Featuring characters like Logainne Schwartzandgrubenierre (the adopted daughter of two gay parents) and William Barfee (who spells with his magic foot), this musical engenders huge laughs out of adolescent anxiety. Except for

Avenue Q

and

The Goat, or Who is Sylvia?

, I've never had such a good time at the theatre.

In this video, Kenny Muhammad is the featured solo musician performing with the New York Philharmonic Orchestra. What instrument does he play? He beatboxes. Fresh. (credit: KayZee)
--Junichi