ME & YOU & EVERYONE WE KNOW LIKE HAPPY ENDINGS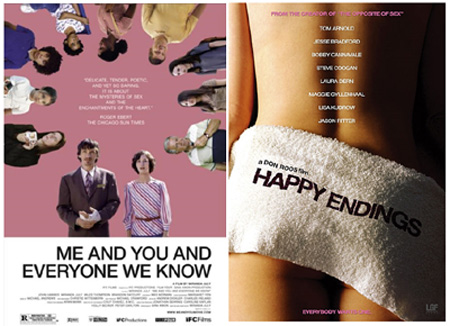 Everyone wants one.
I detest romantic comedies. Any genre of film that demands encores of Meg Ryan or Hugh Grant deserves to be maimed.
Hence it's nearly impossible for me to find a film that presents both romantic optimism and comic observations in a manner remotely resembling fresh. But to my amazement, I just watched two, one after the other.
Happy Endings
and
Me and You and Everyone We Know
provide humongous breaths of fresh air in yet another suffocating summer of stale sequels and brainless blockbusters.
How good are they? It's way too early in the year but I'd like to nonetheless offer, for your consideration, these two films for multiple Oscar nominations.
Happy Endings
, written and directed by Don Roos (who also wrote/directed the brilliant
The Opposite of Sex
) is yet another intertwining multiple-storyline ensemble film about frustrated and disattached people in L.A. Unfortunately, with a flawed script and several characters whose motivations escape me, the film isn't on par with its cinematic cousins:
Crash
,
Magnolia
, and
Short Cuts
.
But
Lisa Kudrow
(yes, that Lisa Kudrow) delivers a comic/tragic turn that transcends every other performance this year. (My bias
against
Kudrow as a legitimate actress was so strong that it took me a week before I finally conceded to myself how stunning she was.)


Maggie Gyllenhaal
(whose haunting Billy Joel karaoke cover remains stuck in my head),
Jason Ritter
(the late John Ritter's doppelganger son), and
Tom Arnold
(yes, that Tom Arnold) also provide stellar supporting performances. Call me a meth addict, but I think the phrases -- "Best Actress Lisa Kudrow" and "Best Supporting Actor Tom Arnold" -- might come to pass one day.
Similarly swimming with lonely souls is actress/writer/director/performance artist
Miranda July
's indie debut -
Me and You and Everyone We Know
. I don't have much to say about this poetic ode to human connections in the digital age that hasn't
already been said
. It's only July but I'd comfortably place the film in my list of 2005 Best Picture nominees and give Ms. July a writing and directing nod for a film equal parts funny and moving, and altogether perfect.
To reward those who have seen the latter film, I offer the following secret message:
))<>((
Back and forth. Forever.
--Junichi