McDONALDS: YOU GOT BILLIONS & BILLIONS SERVED
What'chu talkin' about, Ronald?
The latest Golden Arches news to shower on you: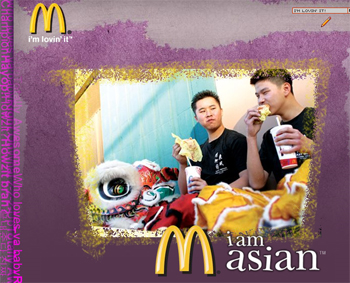 Here's the implied caption for the above photo:

"When I get upset at my Chinese New Year parade lion dance partner, Wang, for getting up in my grill and trying to enter my dragon, I like to wash down my anger with a Filet-O-Fish, which is the seafood dish of choice for assimilated Asian Americans like myself."



On the main page, there is a slide show of various Asian Americans chowing down happy meals. (What, no chopsticks?) But in a peculiar twist, the last photo in the montage features a dog with an "I am Asian" shirt. Aside from a potential shout-out to the Shitzu or the Pekingese, what is the message there? FYI, McDonald's: We're not dogs, although we prefer to eat them over your foul hot mustard sauce.

Where did they get this photo of O-Dub & me at the beach?

Does anybody believe they care about Asian Pacific American heritage? What a Ray Kroc of sh!t.

Robble Robble!
--Junichi