LOSING MUSCLE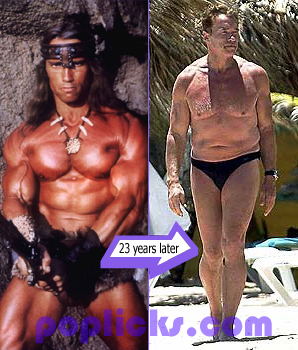 Do Salt 'n Pepa still want a man with a body like Arnold (with a Denzel face)?
The Governator's politcal muscle is rapidly withering into the atrophied flab of what he would unendearingly refer to as a girlie-man.
Latest polls
indicate that only 39% of Californians are inclined to vote for Schwarzenegger again, down from 56% just four months ago.
Apparently, 17% of Californians just woke up from a post-recall drunken stupor and realized, despite a Hummer-size hangover, that maybe it wasn't such a smart idea to believe that the star of
Jingle All The Way
could repair all of California's problems.
Let's hope Golden State voters' coldness towards Governor Freeze continues when we have to vote on his toxic
special-election November initiatives
, which if we are coked out enough to approve them, will cap critical state spending, strip lawmakers of important powers, curb union rights' of political expression, and make it harder for public school teachers to get tenure.
* * *

In other political news:
--Junichi