WEEKEND WRAP-UP: YAY AREA EDITION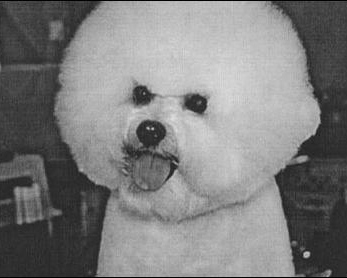 Best in No-Show
Here's all the non-important bay area news that you might've missed this weekend:
$15,000 Bichon Frise snatched from SFO: Ryland, a championship show dog, was just swiped (dognapped?) from the loading area of a cargo building in SF International Airport. So if you see a barking ball of fluff in the back of a Toyota 4Runner, you can collect a $5,000 reward for this valuable Bichon Frise, a type of dog that my fiancee informed me is not pronounced "bitch on fries."

Why is this story interesting to me? Four reasons:

1. According to this article, the original dog owners "called in a psychic" who gave them "the exact same description of the person who took him as the people at the airport." Is it safe to conclude that show dog owners are the least sane of all human species?

2. I once made a snowman who looks exactly like the dog above.

3. Apparently, people in the bay area love grabbing Bichon Frises. Remember the road rage incident in 2000 in which a San Jose man grabbed a dog out of a woman's minivan and killed the dog by throwing it onto the highway? That was a Bichon Frise.

4. The prized canine was headed for his new owner in Peking, China. [Insert inappropriate joke here about how the dog escaped because he thought his new owner was going to eat him.]

If you need more 411 on Bichon Frises, check out the Bichon Frise Information Station, which serves "the worldwide Bichon Frise community." You can even participate in their Bichon Frise quilt project. Last one to cross-stitch is a rotten egg!

Critical (m)ass: If I wrote a book on the art of successful political protests, you would find no mention of yesterday's World Naked Bike Ride in SF (and around the world), which featured nude cyclists showcasing the "destructive effects of car culture." As much as I support this international coalition of activist nudists, their protest ensures that I will never rent a bike, out of fear of becoming infected from the fecal residue left by Rainbow Brite-ass (above). By the way, if nude prunes pedaling give you a Schwinn, this is your site.




Scott Peterson is still the ladies' man: According to this report, new San Quentin inmate Scott Peterson, who recently shaved off all his hair, receives dozens of letters from women on a daily basis. Five have even asked for his hand in marriage. This means that a bald homicidal promiscuous death-row felon with no chance of parole received more romantic attention over the course of two months than I did during my entire conviction-free life. Sad.
--Junichi