RANDOM RAVES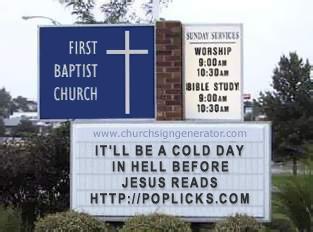 What would Jesus link?
I seem to be high these days. Maybe it's summer. Or my upcoming jaunt to the Big Apple. Or the new job offer. Or perhaps I drank too much champagne at Mary Kay Letourneau and Vili Fualaau's (her former 6th grade student)
recent wedding
.
Or maybe there's just a lot worth raving about and recommending.
WEB:
Church Sign Generator - If you always wanted to personalize a church's roadside sign to address your friend's hell-bound activities ... but you lack Photoshop skills, this is your site. See custom photo above. (Credit: the quarterwit)
Gay-O-Meter - How gay are you? Unbeknownst to me, I am 53% gay.
Crying While Eating - My life was not complete until I checked out this site, which features videos of people, well, crying while eating. Lindsay gets my vote; something about the way she eats waffles and drinks V8 amps up my sympathy for her.

(Credit: Best Week Ever)
Daily Dancer - If you are aroused by a pale doofus who dances to a different song every day, this site is straight-up, hardcore porn.
TV:
Wonder Showzen - This is easily the most subversive show on tv. Hiding on MTV2, it's practically waiting to be censored. I didn't think it was possible to squeeze more laughs out of foul puppets and children's show parodies after

Team America

,

Avenue Q

,

TV Funhouse

, and

Crank Yankers

. But this show is consistently fresh and mostly brilliant. "Beat Kids" is my favorite segment. The New York Times review includes more summaries. (Thanks for the heads up, Hank.)
I continue to be mesmerized by Dance 360, a "You Got Served"-type dance contest where tween ballerinas do pirouettes while going "head to head" against thugged-out pop-and-locking pimp juniors. I met K-Sly (the show's resident DJ) a few weeks ago and asked her when they were going to let her spin actual hit songs. Apparently, the music budget is nonexistent, which I should have guessed from their grand prize: $360. Will somebody donate some beats to that show?

Desperate Housewives

finale - since O-Dub is apparently not into Teri Hatcher & company, I'd like to belatedly applaud the immensely satisfying season finale. My hats off to the writers for (1) making it look like they planned out all 23 episodes before the pilot, (2) setting up the next season, and (3) tying up necessary loose ends while still leaving a few cliffhangers. (Is Rex really dead?) Oh, and thanks for inviting Alfre Woodard to join the cast -- it's about time some black people moved on to Wisteria Lane!
The Daily Show

- check out this clip of Stephen Colbert (who's finally getting his own show) reporting on the First Lady's "midnight show" at the White House Correspondents' Dinner.
PRINT:
MUSIC:
The music on

Grey's Anatomy

: Yes, corporate radio, with its five-song playlists, have forced most of us to discover new music from unconventional sources like Mitsubishi commercials. (Ever heard of Telepopmusik's "Breathe" before the Outlander spots?) The latest music delivery option is ABC's Grey's Anatomy, which, like the OC, knows it's got a good soundtrack when its webpage includes pages dedicated to listing the songs used in each episode. Highlights include: "Edge of the Ocean" - Ivy, "Never Leave Your Heart Alone" - Butterfly Boucher, and "Naked As We Came" - Iron & Wine.

(Thanks, Deemz & SHN!)



Hip hop singles & remixes in 2005

: the year's only half over, but I humbly submit that 2005 is shaping up to be a solid year for singles and remixes. For your consideration:
"Operator" - O.D.B. feat. Pharrell
"Corners (remix)" - Common feat. Mos Def & Scarface
"For The Nasty" - Q-Tip feat. Busta Rhymes
"Diamonds" - Kanye West
"Lose Control" - Missy Elliott f. Ciara & Fatman Scoop
"I'm A Hustler (remix)" - Cassidy feat. Mary J. Blige

"It's Like That" - Mariah Carey
"MVP (Hate It Or Love It (Remix))" - Mary J. Blige feat. The Game
"1 Thing (remix)" - Amerie feat. Jay-Z & Eve
"Signs" - Snoop Dogg. feat. Justin Timberlake & Charlie Wilson
"Wait" - Ying Yang Twins
--Junichi