THE KING OF POP WALKS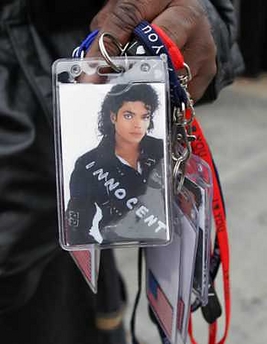 The rap? He beat it.
Wow. To my surprise, Michael Jackson was found not guilty of all ten counts, and thankfully so.
As
I've written previously
, there were countless reasons to doubt whether Michael Jackson was guilty of any of the alleged crimes, especially the ludicrous charge of conspiracy to commit falsely imprisonment.
I've been listening to the jurors on CNN and I'm quite amazed at their ability to stay on point and demonstrate their strict following of jury instructions. In a moment of weakness, however, one woman, Eleanor Cook, did suggest that she was agitated when the victim's mother, Janet Jackson, snapped her fingers at the jury.
Whereas most of America was asking what kind of 40-year-old adult sleeps in bed with children, the jurors were apparently asking what kind of mother lets her children sleep in bed with a 40-year-old.
Overall, the jury seemed convinced, as did I, in the very real possibility that the victim's mother was scheming to rob Michael Jackson. Among other things, it was hard to ignore the fact that she sued JC Penney's for false imprisonment and alleged sexual behavior in that case.
Needless to say, she had the credibility of
Susan Smith
at a racial unity gathering.
In any event, I say that justice was served.
*

Side note: the racial composition of the jury - now visible on CNN - is interesting in light of
today's Supreme Court rulings
. (The Court ordered a new trial in the case of an African American murder suspect in which prosecutors struck 9 out of 10 of the American American potential jurors.) In MJ's case, none of the jurors were black -- two were Chicano/Latino, one was Asian, and the rest were white.
This footage
of Triumph the Insult Comic Dog outside the MJ courthouse is both an illustration of the incredible media bias against MJ and a demonstration of brilliant comedy.

(Thanks to Nebur's World for sending it our way.)
--Junichi