WEEKEND WRAP-UP: DEAR MAMA EDITION
Breakin Windmills 2: Catholic Boogaloo
Pour A Little Liquor for the Pope:

I knew Sean John and Sean Paul had a role in hip hop, but I didn't know about John Paul. Though I thought I was hallucinating, the rewind button on my TiVo has confirmed that The Game, while performing his new song "Dreams" on MTV's Direct Effect, uttered the following introduction to his performance:
"This joint right here is dedicated to

all the fallen legends of hip hop

: Tupac Shakur, Notorious B.I.G., Aaliyah, Left Eye, Soldier Slim, Camouflage, Jam Master Jay, Johnnie Cochran,

Pope John Paul

, and everybody who died in the struggle."
May It Please The Court, Your Honor, My Client Has Hoes In Different Area Codes.

The Seventh Circuit Court of Appeals just published an opinion in

US v. Murphy

, which contains the following footnote clarifying the difference between a "hoe" and a "ho":
"The trial transcript quotes Ms. Hayden as saying Murphy called her a snitch bitch 'hoe.' A 'hoe,' of course, is a tool used for weeding and gardening. We think the court reporter, unfamiliar with rap music (perhaps thankfully so), misunderstood Hayden's response. We have taken the liberty of changing 'hoe' to 'ho,' a staple of rap music vernacular as, for example, when Ludacris raps, 'You doin' ho activities with ho tendencies.'

"

As a former law clerk on the Ninth Circuit Court of Appeals, I am mad jealous of the clerk who drafted footnote 1. For those who need to see the full text of the opinion, the PDF is available here. (Credit: Hank for the heads-up.)

Another Year, Another Year Without My Name on a Mug:

Yet again, none of my favorite first names -- Conchuda, Latifah, Gallagher, Xena, Left Eye, Gallagher, Propecia, Chewy, Ludacris, Fallopia, Fabolous, O-Dub, or Junichi -- made the Top 10 Baby Names of 2004 in the United States.
Bad.

Speaking of quality reporting, I rarely recommend anything in the San Francisco Chronicle, which is, quite possibly, the Cliff's Notes of newspapers. But Don Asmussen's Bad Reporter comic strip is always refreshingly bizarre. Check out one of his recent entries: Runaway Bride Found in Wendy's Chili.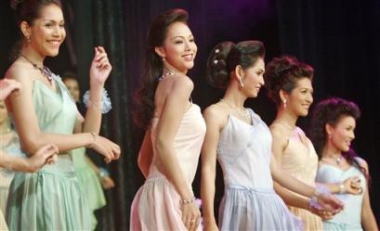 --Junichi