WEEKEND WRAP-UP: BAY TO BREEDERS EDITION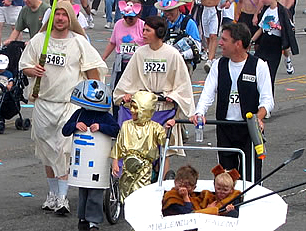 Nerd family mistakes "Bay to Breakers" race for line to get Star Wars tickets
What a weekend! Just in case you were (a) knocking out major milestones like marriage and a PhD in 24 hours (like O-Deezy) or (b) preoccupied trying to
outpace the Kenyans
in your
provocative Bay to Breakers costume
or (c) busy seeing
psychiatrists in South Africa and denying rumors of crack abuse
, here's what you missed:
I appreciate Bill Maher's observation:
Americans this week have acted like the so-called 'runaway bride' is crazy for skipping town rather than marrying a Sunday school teacher in Duluth, Georgia. Ah, yes, the good life: the bake sales, the prayer meetings, the abortion protests, who could just walk away from all that? How come when the girl from

Titanic

ditches her fiance, it's the greatest romance of all time, but when Jennifer Wilbanks does it, she's a "criminal loon with a case of temporary insanity"?

Temporary sanity is more like it. She was staring down the barrel of 14 bridesmaids and 600 guests in the Georgia heat watching a Baptist in a blue suit sanctify her sex life with Welch's grape juice and a reading from The Purpose-Driven Life. Suddenly, Greyhound to Vegas looked pretty good!
--Junichi