REACH OUT AND POKE SOMEONE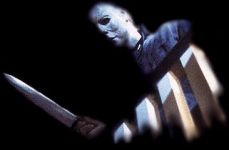 Halloween and Princess Toadstool on Friday the 13th
Here's a trivia question for you.
What is the connection between Michael Myers, Mario & Luigi, and these lyrics below?
"My boy just got poked in the throat"
"If you be a nympho, I'll be a nympho"
"So N!$*@z betta get up outta mine / fo' I creep & turn yo' projects into Columbine"
"Wait till you see my d#@k / I'm a beat dat p%$*y up"
"I'd do anything just to feel your butt"
The answer: for the week of May 21, 2005, you can find them all
here
(originally found here)
.
I wonder if Alexander Graham Bell ever made as much money from each phone call as 50 Cent and Ludacris do.
E.T. phone home? More like B.E.T. phone home.
--Junichi