AN OPEN LETTER TO IRENE AND RANDY
This post is my response to Irene and Randy, the two kids singing a song about the need to pass Proposition 8 in the video below:
Dear Irene and Randy:
By now, I realize that you're probably used to your Asian parents constantly snapping photos and videos of you. I can relate. When I was your age, my mother played piano and made me sing songs while my dad documented every moment as if he were filming a reality show.
There is a difference between us, however.
I sang children's songs about peaches, dogs, and the joys of opening and closing your hands.
You're singing a children's song about hating people and denying civil rights to your fellow citizens.
I predict that you're going to regret that your parents put you in that video in a decade or so.
You're going to regret it in the same way that the smiling kid in the photo below regrets ever holding a pro-segregation sign: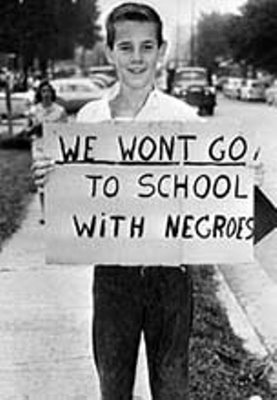 You see, only a few decades ago, some states would have denied you the right to marry a large segment of the population simply because you are Asian. It's hard to believe, I know.
When courageous civil rights activists challenged those anti-miscegenation laws, others vigorously fought to keep the bedroom segregated, using fear-mongering intimidation tactics with which your parents are familiar.
But those segregationists are now shameful stains on our country's history.
With time, the majority of Americans learned to look at them and the bars to interracial marriage as fundamentally wrong and at odds with the principles of equality and justice that guide this country.
You, Irene and Randy, have been brainwashed by the next generation of bigots that comprise the shameful stains of our present and future.
Your parents are the George Wallaces of the 21st century, attempting to block the doors of marriage and deny other civil rights to thousands of Californians.
Don't worry. I don't blame you. You're just kids and you don't realize what you're saying. Your homophobic parents and ministry are exploiting you because they don't have the nerve to sing that hateful anthem themselves.
But eventually, you'll discover love. Maybe you'll be as lucky as me and marry the love of your life. And you'll appreciate how painful it would be if the government declared that love illegitimate or denied you the right to celebrate it.
That's one of the many reasons I cannot join you in supporting California's Proposition 8.
You see, if that initiative passes, someone you love will eventually be denied the right to marry his or her soulmate. Maybe someone you know will be denied the right to visit her lover in an emergency room after a horrible accident. Perhaps, you will soon realize that you can't marry the one you love because he or she lacks the right chromosomes.
But no matter whether that initiative passes, I have faith that the majority of this country -- indeed, the world -- will soon recognize that it is unequivocally wrong to deny fundamental rights to people because of whom they love.
Which is to say, eventually, the horror will consume you as you remember that YouTube video above and realize that you played a role in building walls of segregation, instead of knocking them down.
So for the benefit of humanity, I hope you
join the right side of history
-- sooner, rather than later -- and before you're old enough to vote.
Labels: No on Prop 8
--Junichi