MORMON MONEY TO BURN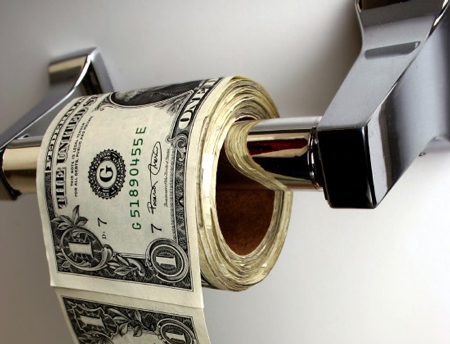 Toilet paper for Mormons?
I understand why someone would donate every penny he or she has to strike down California's Proposition 8. At stake is the marriage of friends, the basic human rights of many Californians, and a symbolic dignity and equality that gays and lesbians have long been denied. I have now donated more to the
No on 8 campaign
than I have to any other political cause and I wish I could afford to give more.
While I fundamentally disagree with those who support Proposition 8, I also understand why someone might vote for it.
What I
don't
understand is why people would collectively donate
at least $28.2 million
to support California's Proposition 8, especially when the evidence suggests that much of those donations are coming from people outside the Golden State.
Interestingly, but nor surprisingly, most of those donations are coming from out-of-state Mormons. According to
this article
, Mormons may account for 70% of the Yes on 8 donations from individuals.
How do we know this is true? For starters, you can learn the name of every Mormon donor and his or her hometown by visiting the website
mormonsfor8.com
.
The public nature of these donor lists explains why we now know that San Jose's Michele Sundstrom and her husband, who have been married for 18 years and have five children, donated $30,000 to the Yes on 8 campaign.
$30,000 from one family? In this economy? Why?
I understand why one might donate $30,000 to a candidate who will lower capital gains taxes.
I understand why one might donate $30,000 to an initiative that increases funding for research that might cure her child's fatal disease.
I even understand why one might donate $30,000 to an anti-abortion initiative that could save the lives of unborn children.
But donating $30,000 so that two women or two men can't say they are "married" in the state of California, even though they already have the right to live with one another, become domestic partners, collect benefits, and adopt children?
And this is all organized by a church whose former unrecognized marital practices forced its followers to flee anti-Mormon persecution spreading along the Eastern seaboard?
Best case scenario: The Sundstroms are worried that their religious beliefs will be increasingly challenged by outsiders. But even if this is true, they must know that even if Proposition 8 fails, there is no chance that the government will or can force the LDS Church - or any religious group - to change its religious views or host gay weddings. (Otherwise, the Catholic Church would have long ago been enjoined from banning marriages between Catholics and Protestants, for example.)
So what motivates a Mormon family of seven to donate $30,000? If anything, the attention that their donation is receiving is likely to put more effort into people questioning the tax-exemption status of those churches that are using their funds to organize political campaigns.
Maybe Michele Sundstrom is a millionaire and $30,000 is just a drop in the bucket. But even if I had that kind of dime to drop, I would have to be deleriously high on opium to donate my child's first year med school tuition to pay for more Yes on Prop 8 commercials.
Interestingly, the
Chronicle
article points out that the Mormons' efforts are starting to backfire, especially with the sunshine laws that make the
mormonsfor8.com
website possible.
When two women found out about the Sundstroms' $30,000 donation, they "parked an SUV in front of their home, with the words 'Bigots live here' painted on the windshield."
That bold act seems to have delivered a message to Michele Sundstrom, who now seems to be a step closer to understanding the pains of gays and lesbians against whom she is fighting: "There must be such deep, deep, deep hurt; otherwise there couldn't be so much opposition," she said. "They've lived with this. I guess we're getting a taste of where they live."
Labels: gay rights, No on Prop 8
--Junichi