YOU KNOW IT'S A STRANGE ELECTION WHEN CIVIL RIGHTS ACTIVISTS ARE HOPING FOR A LOW TURNOUT IN THE BLACK COMMUNITIES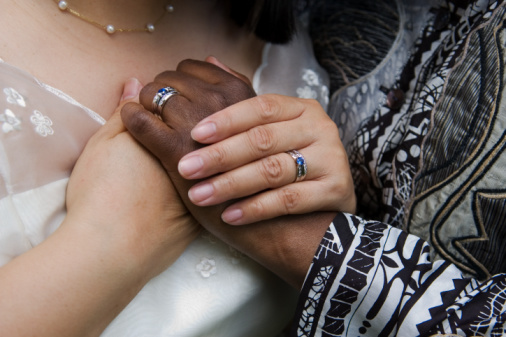 Not Loving the Next Loving v. Virginia?
Question: Why might some progressive forces in California be secretly hoping for a
low
black and brown voter turnout in this upcoming November election?
Answer: Because they believe that the African American and Latino communities are more likely to vote to outlaw gay marriages and, therefore, could tilt the balance in favor of Proposition 8, which would overturn the California Supreme Court's recent ruling recognizing gay marriages.
So says
this

New York Times

article
, which assumes the truth of the underlying assumption that African American and Latino voters are more homophobic.
But I question whether that assumption is still correct today.
It wouldn't surprise me if it was true twenty years ago.
I also have no doubt that homophobia remains a rampant problem in those communities.
But it's also a problem in Asian American circles. And Native American circles. And Arab American circles. And white circles. And Democratic circles. And triangles. And quadrilaterals.
Back in 2000, the exit polls for California's Proposition 22 (which banned gay marriage) didn't reveal significant discrepancies between racial groups. Admittedly, Latinos were slightly more inclined to vote for Prop 22 than blacks, who were slightly more inclined to vote for it than Asians and whites. But the differences were minute and the majority of all groups supported the initiative.
Moreover, exit polls from similar state initiatives in 2004 and 2006 didn't reveal
any
racial disparities in gay marriage-related voting patterns, except in Georgia.
(
This

LAT
op-ed even points out that "blacks in Arkansas, Kentucky, Michigan, Mississippi, Ohio and Oklahoma were at least one percentage point
less
likely than whites to vote for them, according to CNN exit polls.)
So where is the proof that black and Latino voters in California are more likely to support anti-gay initiatives like Proposition 8? Has anybody seen a survey or poll that confirms that?
Are the MSM and electoral pundits merely assuming that, say, Busta Rhymes' (in)tolerance for gays and lesbians reflects the outlook of the entire black community?
I'd obviously like to believe that people of color now recognize the common link between the anti-miscegenation laws of yesterday with the anti-gay marriage laws of today.
Labels: 2008 presidential election, gay rights
--Junichi