ARE ASIAN AND LATINO VOTERS RESISTANT TO THE IDEA OF A BLACK PRESIDENT?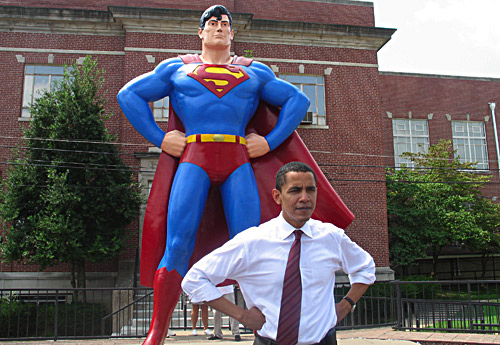 Is Obama's Kryptonite in Chinatown?
For the past few months, I resisted the notion that Chicano/Latino and Asian American Democrats are more likely to vote for Clinton than Obama.
At a recent Poplicks staff meeting, Dr. Wang was trying to convince me of this.
But last night's exit polls have forced me to accept that reality.
In California, Obama won
both
the black vote
and the white vote
. Exit polls indicated that 49% of white voters chose Obama, while only 43% chose Clinton. 73% of black voters chose Obama over 25% for Clinton.
And yet, according to
CNN
, Clinton still prevailed in the Golden State because
Chicano/Latinos
, who constitute about 30% of the state's registered Democrats,
chose Clinton by a 2-to-1 margin
: 66% for Clinton, 33% for Obama.
Also,
Cali's Asian Americans voted for Clinton by a 3-to-1 margin
: 75% for Clinton, 25% for Obama.
These numbers line up with national exit poll data, which similarly reveal that Clinton handily beat Obama among Asian American and Chicano/Latino voters throughout the country.
While I would like to believe these numbers merely reflect the fact that different groups have different concerns, I'd be naive to think that the candidates' race played no part.
I am exhausted by the MSM's inane and pointless discussion of whether America is ready for a black president.
Nonetheless, there seems to be an under-explored side of that story: why Asian and Chicano/Latino voters are not as infected as others by Obamania.
I hate to hyper-generalize and conclude that this reflects that other people of color feel threatened when one specific minority group succeeds. After all, race or gender played no calculation in how I voted.
Yet, with most Democrats evenly split between two candidates with few policy differences between them, a 2-to-1 (Latino) and 3-to-1 (Asian American) disparity is statistically significant. I can't think of any obvious way to explain this disparity that isn't related to race.
Is it possible that non-black people of color are the most resistant to a black president?
Oliver Adds:
Speaking of which...where the hell is ANY coverage that discusses the Asian American vote in CA? Last time I checked, the API vote is roughly equal to the African American vote and as Junichi notes above, API voters played a major role in giving Clinton the win, especially in countering both the White and Black voters who leaned Obama.
Yet you scour the news and it's barely mentioned despite the fact that the 75% margin is the most disproportional swing amongst any of the major demographic categories.
I'm still a little in shock of it myself. Had it been more like the Latino vote - 60/40, I could have understood that. But 75/25?
Should we blame S.B. Woo?
Labels: 2008 presidential election, race
--Junichi