HILLAR, PLEASE.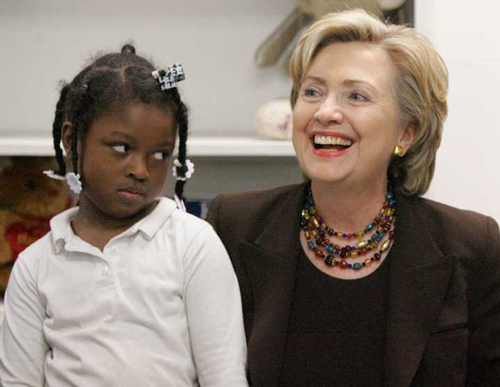 In light of the smörgåsbord of
offensive
statements
the Clintons made in both courting and dismissing the black vote in South Carolina, I believe the picture above says it all.
Heck, this might even be the best photo in the history of presidential politics.
*

The numbers out of South Carolina's primaries are stunning:
Democratic voters in yesterday's primary: about 530,322
Republican voters in last week's primary: about 446,000

Keep in mind that South Carolina hasn't gone "Blue" since 1976.
*

Another astonishing fact is that Sen. Clinton didn't even win the
white
vote among Democrats in South Carolina. According to exit polls ...
Edwards 39%
Clinton 36%
Obama 24%
Unfortunately, these numbers don't bode well for Obama.
Still, I'd like to believe that those who voted for Edwards and Clinton would vote for Obama in the general election.
Which is to say, come November, South Carolina could very well be the state that pushes the electoral count in favor of a black Democrat winning the White House.
Whowouldathunkdat? Given that the confederate flag still flies on the front lawn of South Carolina's Capitol building, this is quite a welcome development from the Palmetto State.
Labels: 2008 presidential election
--Junichi