I AM THE GRINCH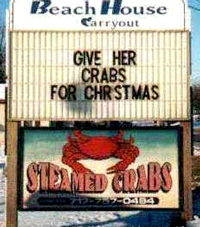 Ho! Ho! Ho!
Today, I was standing in a long line at Costco, forced to listen to a barrage of grating, atrocious Christmas carols recorded by the poor man's Mormon Tabernacle.
Suddenly, as if instantaneously infected with an extreme case of Tourette's Syndrome, I just blurted out, "This music makes me want to punch somebody in the face."
The elderly woman behind me took a gargantuan step back. I didn't realize I shared my thoughts out loud.
Needless to say, it's time for a federal ban on department store Christmas music anytime before December.
I realize this is hardly an original thought. But I am not a violent man. Yet, I almost went postal today after hearing "Joy to the World," which mysteriously hypnotizes me into wanting to shove Ben Wa balls made of razor blades into my left eye socket.
I can tolerate the carols when Christmas is days away, but certainly not before Thanksgiving. I swear, at this rate, I'm going to end up in handcuffs by Pearl Harbor day, which would be only mildly ironic.
I hope Santa puts some bail money in my stocking.
--Junichi