GOOD NEWS: CIVIL WAR IN IRAQ!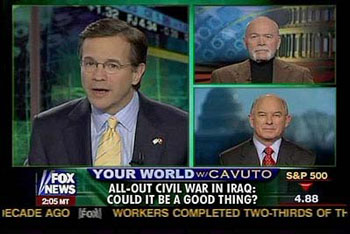 I realize criticizing Fox News for its content is like criticizing Pol Pot for being too violent.
But suggesting that "All-Out Civil War in Iraq" = "a good thing"? Bananas. If it were Opposite Day, I would award Neil Cavuto a Pulitzer.
Also, what could that scroll item about "...ng the Sheep Off in a Garabage Can" possibly be about?
--Junichi