SNOW YELLOW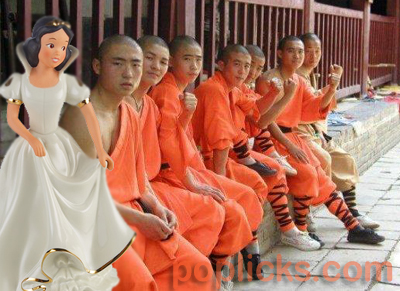 Mirror Mirror On The Great Wall ...
Each time Walt Disney Studios releases yet another animation featuring a racial or ethnic group, a new group of Americans suffer because of its historical inaccuracies, cultural appropriation, and stereotypes sung to catchy Alan Menken melodies.
Just as
Pocahontas
serves as most children's primary source of Native American history,
Aladdin
is the genesis of my generation's (mis)understanding of Arab culture ("It's barbaric, but hey, it's home"), which then gets transposed onto everyone from Iran, India, Pakistan, Afghanistan, and any other place perceived to have magic lamps and pet monkeys (Neverland Ranch excluded).
The only good thing about characters like Mulan or the "Africans" and "Chicanos" in
The Lion King
is that it provides job opportunities for voiceover talent and parade actors of color. (A Pilipino friend of mine broke into Hollywood when she was chosen to play Pocahontas in the Disneyland Main Street parade.)
So when Disney announces that its next animated film will feature hunchbacks or mermaids, Jamaicans and Native Hawaiians everywhere breathe a sigh of relief.
Hence it is now with great sadness that I announce that
Disney is making a
new film version of Snow White where her seven dwarves will be Shaolin monks
. This is bad news for Chinese, Asians in general, and monks. Good news for dwarves.
I wish this were a joke. But Yuen Wo-Ping (fight choreographer for
Drunken Master
, the
Matrix
, and
Crouching Tiger
) will be directing Disney's forthcoming
Snow and the Seven
, a martial arts epic that remakes
Snow White
and replaces the seven dwarves with kung fu monks.
Is anybody here going to pay $10 to watch Prince Charming replaced by Prince Chao Ming? Or worse, for Snow Yellow to wake up from the kiss of a blond-hair capitalist?
Ok, I may not be able to resist, either. This is destined to be a camp classic.
If this is successful, we can all expect the following Disney remakes:
Emperor Akihito's New Groove
,
Alice in Pakistan
,
101 Malaysians
,
Beauty and the East
. I could go on.
But if this just ends up creating another generation of stereotypes in song, guess where I'm going to go with my flame-thrower and jug of gasoline?
I'm going to Disneyland!
--Junichi