EVERYONE IS A FREAKING NAPOLEON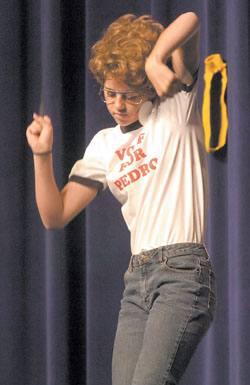 Flippin' Sweet Dance Moves
The snowballing cult status of
Napoleon Dynamite
has now eclipsed the geek devotion triggered by other cult films such as
Office Space
,
Clerks
,
Heathers
,
Showgirls
,
This is Spinal Tap
,
Princess Bride
, or
Scarface
. Watch your back,
Rocky Horror
.
Thanks to their best-selling DVD of
ND
, the Mormon BYU-alum husband-wife team of Jared and Jerusha Hess continue to gain hardcore converts a year after the fim's theatrical release. (I feel like those of us who saw the film in the theater during its first run deserve an award or a delicious bass.)
You know your film has blown up when there are countless midnight screenings,
character quizzes
, lecture circuits,
"Liger" g-strings
, and Dennis Quaid is on
The Daily Show
wearing a "Vote for Pedro" shirt.
Here are the more amusing signs of the film's empire:
The Idaho House of Representatives unanimously passed Concurrent Resolution No. 29. Here are my excerpts of the resolution:
WHEREAS, tater tots figure prominently in this film thus promoting Idaho's most famous export; and

WHEREAS, the friendship between Napoleon and Pedro has furthered multiethnic relationships; and

WHEREAS, Uncle Rico's football skills are a testament to Idaho athletics; and

WHEREAS, Rico and Kip's Tupperware sales and Deb's keychains and glamour shots promote entrepreneurism and self-sufficiency in Idaho's small towns; and

WHEREAS, the "Happy Hands" club and the requirement that candidates for school president present a skit is an example of the importance of theaterarts in K-12 education; and

WHEREAS, Kip's relationship with LaFawnduh is a tribute to e-commerce and Idaho's technology-driven industry; and

WHEREAS, Napoleon's tetherball dexterity emphasizes the importance of physical education in Idaho public schools; and

WHEREAS, Tina the llama, the chickens with large talons, the 4-H milk cows, and the Honeymoon Stallion showcase Idaho's animal husbandry; and

WHEREAS, any members of the House of Representatives or the Senate of the Legislature of the State of Idaho who choose to vote "Nay" on this concurrent resolution are "FREAKIN' IDIOTS!" and run the risk of having the "Worst Day of Their Lives!"

NOW, THEREFORE, BE IT RESOLVED by the members of the First Regular Session of the Fifty-eighth Idaho Legislature, the House of Representatives and the Senate concurring therein, that we commend Jared and Jerusha Hess and the City of Preston for showcasing the positive aspects of Idaho's youth, rural culture, education system, athletics, economic prosperity and diversity.


The Chamber of Commerce in Preston, Idaho, where the movie was set, recently organized the successful Napoleon Dynamite Festival 2005, which featured a tour of the Rex Kwon Dojo, an FFA milk-tasting competition, a tetherball tournament, and a tater-tot eating contest. (The person in the photo above is contestant Brittany Peterson doing the moon boot dance at the festival.)



Peep Dominic Errazo take advantage of his 15 minutes of fame on ESPN and channel Napoleon Dynamite while competing in the National Spelling Bee. (credit: pickinboogers)




Finally, here's Napoleon on Letterman.

(credit: Kay Zee)
--Junichi