RANDOM TOP 10 LISTS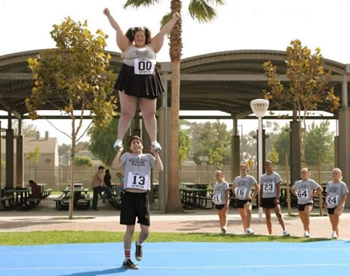 Mr. Big Stuff
Even before
High Fidelity
, I had an awful genetic predisposition to making random Top 10 lists.
After the jump, you can check out a few of my recent ones:
TOP 10 SONGS WITH TITLES IN THE TITLE



TOP 10 COUNTRIES I DIDN'T KNOW EXISTED



TOP 10 LAMEST PROFESSIONAL SPORTS TEAM NAMES



TOP 10 FAVORITE PHRASES IN R.E.M.'s "IT'S THE END OF THE WORLD AS WE KNOW IT (AND I FEEL FINE)"



TOP 10 SYNONYMS FOR FAT
CLICK HERE TO CONTINUE READING...


Top 10 Songs with Salutations Titles in the Title

1. Sir Duke - Stevie Wonder
2. Mr. Brightside - The Killers
3. Ms. Fat Booty - Mos Def
4. Hey Mr. DJ - Zhane
5. Mr. Telephone Man - New Edition
6. Mr. Zebra - Tori Amos
7. Mr. Big Stuff - Jean Knight
8. Mr. Roboto - Styx
9. Mrs. Robinson - Simon & Garfunkel
10. Mr. Wendal - Arrested Development




Top 10 Countries I Didn't Know Existed Until I Saw

This List

of Countries



1. Saint Vincent and the Grenadines
2. South Ossetia
3. Saint Kitts and Nevis
4. Abkhazia
5. Swaziland
6. Gabon
7. Mauritius
8. Seychelles
9. Benin
10. Tajikistan




Top 10 Lamest Current Professional Sports Team Names



1. Los Angeles Angels of Anaheim
2. Columbus Blue Jackets
3. Utah Jazz
4. Anaheim Mighty Ducks
5. Orlando Miracle
6. Oakland A's (or Athletics, either way)
7. L.A. Clippers
8. New Jersey Nets
9. Milwaukee Brewers
10. Connecticut Sun

X. Montreal Expos



Top 10 Favorite Phrases in R.E.M.'s "It's The End of the World As We Know It (and I Feel Fine)"



1. Lock him in uniform
2. Listen to your heart bleed
3. 6 o'clock TV hour
4. Don't get caught in foreign tower
5. Every motive escalate
6. A tournament of lies
7. Birthday party cheesecake
8. The furies breathing down your neck
9. Listen to yourself churn
10. Ladder structure clutter


Top 10 Synonyms for "Fat" according to Thesaurus.com

1. Surplus
2. Butterball
3. Oily
4. Good
5. Plumpish
6. Tubby
7. Cushy
8. Inflated
9. Elephantine
10. Fatlike

Labels: Top 10 Lists
--Junichi